While we are distancing, we can still be together!
Check out these online opportunities to grow your faith:
Our Vision, Mission and Beliefs
We are a church of love, acceptance, and graciousness. We welcome all people, as they are, with arms wide open. We work together to make disciples of Jesus Christ for the transformation of the world!
Written by Korde G., age 15
Welcome To Douglas Avenue!
You are

God's workmanship

, created in Christ to do

good works!
We believe each member of the church is

called to minister

to others in some way. Our staff can help you find your niche.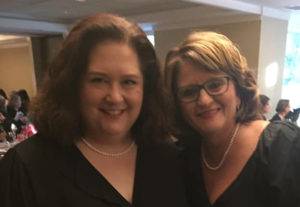 Rev. Meredith Manning Brown –

Pastor Meredith joined the DAUMC family on July 1, 2019. She has led a variety of new church planting efforts, pastored through several church revitalization and growth projects, and served in ministry staff positions across the United States. She was lead pastor for the Evergreen Faith Community in Lacey, Washington, an innovative, neighborhood-based, progressive, intergenerational community focused on connecting with people who don't know, don't like, or have had enough of church as usual. Meredith is

also

a musician, and comes to us after serving as interim pastor of Williamsville United Methodist Church (IL). She lives in Springfield with her delightful husband, two active teen-aged daughters, and a lazy housecat.
Rev. Margaret Ann Jessup – Our Associate Pastor, Margaret Ann graduated in 2014 from Eden Theological Seminary in St. Louis and was Ordained as an Elder in the United Methodist Church in June of 2017. Prior to going to seminary, she was an Oncology and Hospice nurse for 25 years. One of her roles includes being the Director of Wooden It Be Lovely, a Social Enterprise of DAUMC. This unique ministry offers hope and employment to single mothers in need. Another important role Pastor Margaret Ann assumes at DAUMC is the coordination our Children's Ministry. Children are at the heart at DAUMC, which makes this part of her Ministry great!
Ministries: Serving & Getting Involved
Use the form at the bottom of this web site to reach out to any staff member or seek answers to questions you may have!
Sunday School
We provide Sunday School for all ages every Sunday, at 9:30 a.m. Let us help you find a class!
Child Care
Child care for infants and toddlers is available every Sunday from 8:00 a.m. until noon.
Youth Group
DAUMC has an active youth group program. See Eowyn Montgomery for details!
Messy Church
A monthly gathering for all ages. Fun activities, high-energy worship, and a shared meal.
Weddings
DAUMC welcomes weddings! Click here for our guide to all things wedding!
Funerals
Let us help in your time of grief. Please contact one of our Pastors.
United Methodist Women
Our active UMW group features a number of Circle options. Contact the church office.
Methodist Men
Our men's group meets the first Saturday of the month. The church office has the details.
Wooden It Be Lovely
A program offering hope to single mothers at risk. Click here for more details!
Compass
This award-winning after school program was started at DAUMC. Click here for more information.
Music at DAUMC
Like to make a joyful noise? Contact Music Director Bekah Philbrick through the office.
Scouting
DAUMC sponsors an active Scouting program. Contact the church office for details.
Sewing Group
Our dedicated sewers meet on the 3rd Thursday of the month from 9 a.m. until 3 p.m.
Coffee with a Pastor
Would you like to have coffee with a Pastor. Use the form below to reach out!
Office Volunteers
We often need help folding, copying and stapling. See Carol in the church office.
Tech Ministry
Want to help run the sound board for worship? Visit the tech booth in the balcony any Sunday!
WorshipCORE: Don't Miss A Message
DAUMC's WorshipCORE audiocast provides you with the core of worship on a regular basis. Tune in on Facebook for this week's scripture, message and prayers of the people. Visit our Facebook page HERE .
Church is not a building. We extend God's love to our community and online through a number of social media channels. View our new worship videos, get the latest updates on upcoming events, and more. Click on any of the links below.
Visit Douglas Avenue AFTER the Quarantine
Worship at 8:15 and 10:30 a.m. Sunday School for all ages at 9:30 a.m.
The Protocol for Reconciliation and Grace Through Separation
Many United Methodists have questions about proposals for separation which will be considered at the upcoming General Conference of church delegates from around the world.
Below you will find information which may be helpful to you as you read articles in the media and make yourself aware of issues facing our congregation and our denomin

ation.
Read Pastor Meredith's statement on the Protocol which was delivered in worship on Sunday, January 5, 2020.
Click here:
20-01-05 Protocol Statement.
Read the announcement of the Protocol Agreement by the United Methodist Council of Bishops. Click here.

Read Frequently Asked Questions about the United Methodist Mediation Team. Click here.

D O U G L A S
Avenue United Methodist Church
501 South Douglas Avenue
Springfield, Illinois 62704
daumc@douglasavenue.org
Phone: 217.546.4631
Sign Up for DAUMC Emails Today!
To receive email updates from Douglas Avenue United Methodist Church, click here and fill out the simple form!
Douglas Avenue United Methodist Church is a unique and diverse congregation of all ages, races, orientations and backgrounds. We love to welcome visitors! Even more, we love working in the community, loving and serving God and our neighbors!