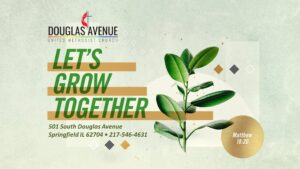 During this time of physical distancing, join us every Sunday for online worship via Facebook Live @ 10:30 a.m. You can view these and ALL our videos by visiting our YouTube channel, DAUMC Springfield. Just click on the logo below.

A NEW Season of Worship at DAUMC!
Beginning Sunday, April 11, 2021, join us for a new season of worship at Douglas Avenue. Each weekend, we will have two safe, socially-distanced in-person worship opportunities. There will be an 8:15 a.m. Communion service in the Sanctuary, as well as an 11:00 a.m. Patio Worship on the DAUMC patio outside the Great Hall. Of course, we will continue our weekly online worship at 10:25 a.m. on Facebook and YouTube. Registration is requested for all in-person worship opportunities.
To register for April 11 Communion in the Sanctuary, click here.
To register for April 11 Patio Worship, click here.